14 September 2013, 11:29
Already September, sheesh, where does time go… I've been wanting to write about the one night I was able to attend of this years Blues Rules which took place last May, but insomnia and various other things have kept my bloging to a minimum; you may have noticed.
The first three editions of what is IMO one of Switzerland's best blues festival took place on the grounds of the castle of Crissier, just outside of Lausanne. But it seems that didn't work out this year so the festival's two founders, Vincent Delsupexhe & Thomas Lecuyer, had a great idea: they organized 4 tour dates European tour for some of their American bluesmen friends instead!


Left Lane Cruiser duo Brenn Beck and Joe Evans (far left) take in Robert Belfour
Always on a tight budget, I chose the first of these evenings…
---
25 August 2013, 10:24
This is an unpdate to last June's Pinholed Nex5n post, so you may want to read that first.
At the beginning of July I found the Pinhole Shop on Ebay which not only sells pinhole cameras but also just the pinholes; and also has a very convenient chart as to what the distance between the film/sensor and pinhole should be. I ordered the smallest: 0.12mm (that they don't seem to have for sale at the time I'm writing this), which if I remember correctly, should be place 13mm away from the film.
After receiving it and comparing it visually to the pinhole I had made – and the first one I had bought (Rising pinhole, 0.2mm) – I estimated mine as being around 0.15mm. So I replaced mine by the 0.12mm in my homemade lens after sanding of as much of the bodycap as I dared to prevent vignetting from the cap itself. I also made a second bodycap lens for mine, placing it at approximately 17mm from the sensor, as well as made one for the Rising lens, placing it at 30mm…
---
9 March 2013, 11:00
Up here in the mountains, Spring usually means two months of rain and mud. It is not yet clear if we are there or not but feeling a bit of warmth in the air these last few days has been nice. Still, it can be dangerous too!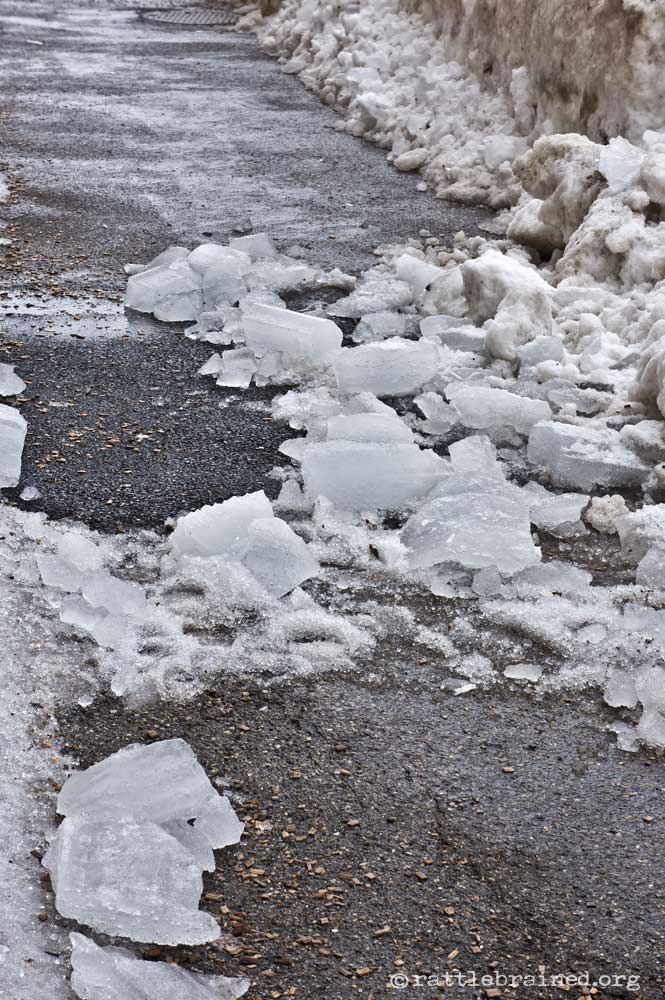 Early in the week these blocks of ice fell from the roof…
---
11 November 2012, 16:19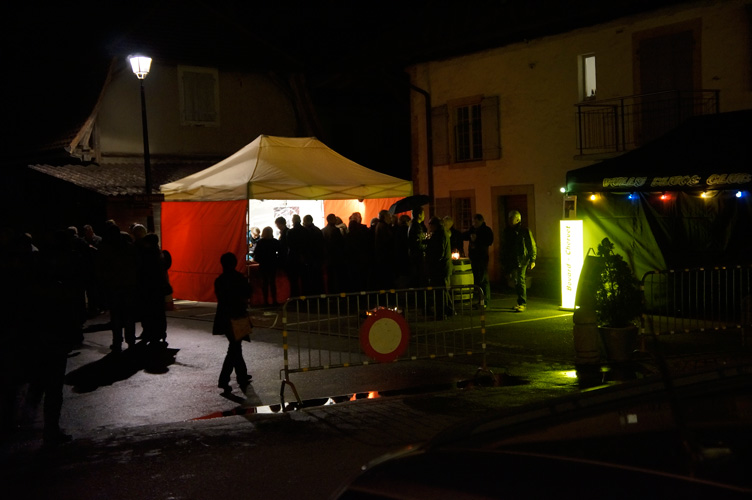 Although around here November is often wet & cold, not really the kind of weather one usually associates with the Blues, there were enough scorching hot guitar solos at the 5th Vully Blues Festival to make a steam bath of the local swimming pool! And I believe it can be said that the festival has found its public since when I was there Friday night all the wine cellars of Praz were well packed and grooving.
Wine cellars? The Vully is a small wine making area in Switzerland along the northwest side of the Lake of Murten/Morat and its local Blues Club had the good idea of taking advantage of the areas topography in organizing its Blues Festival. 2 days, 8 wine cellars & 13 blues bands is how it was presented this year! The wine cellars are situated throughout the village, each with it's own style, most had setup tables and chairs and all had a bar where the public can…
---
12 March 2012, 10:20
A big thank you to everyone who helped us, came to, and enjoyed Swamp Train's CD Launching Party last Friday! We really had a fantastic time!
Amazing really when you consider the discussions we (the band) had pretty much a year ago: should we make one? Too soon? To expensive? All the doubts you can harbor… and then the decision, choosing songs, looking at different studios, prices on the web…
And then the actual recording sessions last summer that fell right in heat wave weather – 36°c/ 96.8°F – in the studio… Dealing with often divergent opinions, discussions, time going by, where to mix it? All hopes of getting it ready by last October brushed away…
---
6 August 2011, 14:26
We, Swamp Train, had a fantastic time last night at the Festival Outdoorelch near Balmberg BE, and want to thank the everyone there! A small festival on a hilltop among the many that cover the landscape south of Bern, an area where enough artists have lost their way in the 11 years it has taken place that the organizer just shrugged and laughed when our guitarist, Cutfinger, showed up at pretty much the time we were programed to play. Fortunately Dalia, the band that played before us, had started later than indicated on the program which was, we were told, just an suggestion and not to be worried about the half hour during which they were to clear the stage and we were to set up, line check and begin our set…
---
18 July 2010, 11:54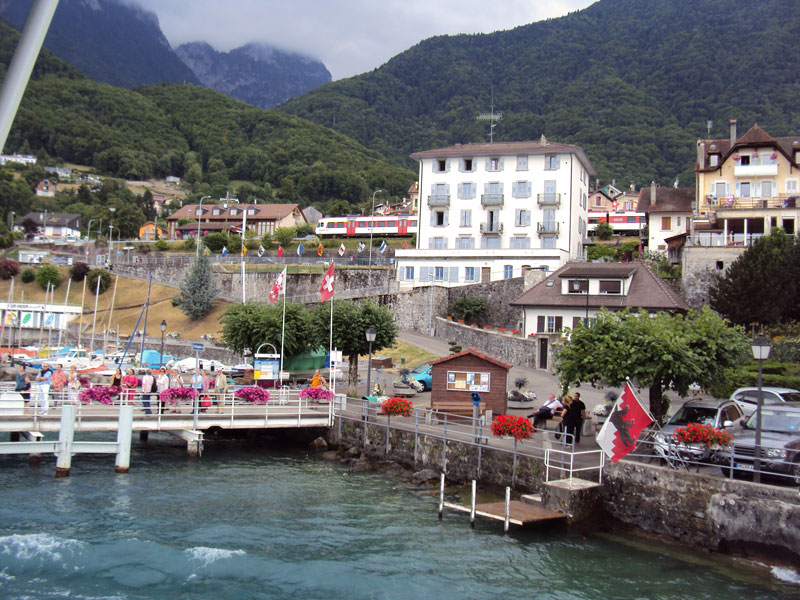 St. Gingolph

A few picture from yesterday's boat ride around the east - upper lac - side of the Lac Léman (lake Geneva). We were...
---
25 April 2010, 20:47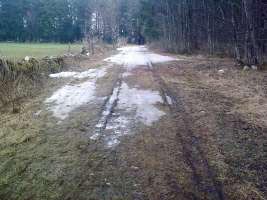 Almost summer weather today so I walked north west, up and out of town, just over the crest were one can look over to France's Franch-Compté region. I like it better than the view of the Alps that you see if you go up the opposite way. Less dramatic, an invitation to walk with your mind across the hills.
On the way up I saw a small white butterfly, probably the first Ive seen up here since spring comes a month later than down in the Plain (which is what they call the central area of Switzerland that is not the Alps or the Jura). Nice to get some air after three days of facing the dust that had accumulated in my studio over the winter.
Tuesday I practiced with Dave, the two of us will be playing locally…
---
8 March 2010, 22:24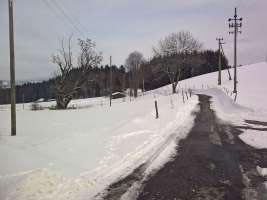 Just as it looked like the Spring was getting closer wouldn't you know that the temperature would drop again, flirt with the -6° to -12° C (21° – 10°F), encouraging all the show that fell on Saturday to stay put and freeze up the town some more instead of politely melting away like I wish it would.
Sunday woke with the sun, not of the let's melt all that snow kind but unfortunately closer to: "the sun is shinning, don't forget your sunglasses it's really bright out, hey it's freezing! Where did you put my gloves?" kind. Brrrr…
---
5 January 2010, 10:10
I've been having problems getting good pictures of my latest art works with my aging Olympus C-8080. It just doesn't have the definition to get all the variations on white these works have to print a large size image. Since funds are low I was curious as to what quality pictures one of those newer "cheep" and portable cameras boasting over 10 mega pixels would have and so it was convenient (to me) that E. had to buy one for her work…
---