15 August 2011, 17:37

From last Saterday's gig on the beach.
It's often hard to get the members of a band to get organized for stuff like taking pictures and videos, and we (Swamp train) are no exception. And since a new camcorder is a bit too pricey for me at the moment I decided to get my old digital 8 machine out of the closet for last Saturday…
---
1 February 2011, 18:37
…Use Blue!
Or in my case: when you run out of canvas (and can't afford buying more) use paper (which fortunately I have drawerfuls of)!
---
25 July 2007, 21:36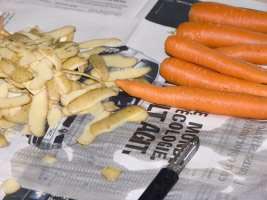 The windows in my apartment where changed today from 125 year old wooden things that we barely dare to touch anymore because they where falling apart in every way possible, to white plastic double glass panes that hopefully will do a better job at keeping out the cold. Ugly but efficient as opposed to rotten with a history I guess…
---
20 July 2007, 21:29
One of the more arresting things about being an artist is surviving the way people consider it as an activity. What other occupation gets you "and do you live from it?" as a sequel to "what do you do?". OK, sometimes you get the "what type of art" question in between but either way: say no and your inquisitor usually beams with righteous justice, say yes and visibly you've sold out.
Yes, yes, that's a bit of an stereotyped exaggeration but it was fun to write and has a ring of truth…
---
16 June 2007, 22:15
Yesterday I went for a nice long walk to get over my fatigue from Friday night's fun. Much of it was spent chasing bumble bees and butterflies with my camera, a somewhat Zen activity which I find to be relaxing. Zen because with digital technology, you can focus and follow the insect with the little screen which means that you have both your viewpoint and the camera's. This gives a feeling of being very much in touch with it, which is one of those odd things…
---
17 April 2007, 22:08
You know the word Pimp, now being used for just about anything, well yes it's cool and all that, sure.., right. And it is interesting to follow how words have their meanings change over the years and all that.
But…
---
6 April 2007, 22:46
… Shirky describes this generational shift in terms of pidgin versus Creole. "Do you know that distinction? Pidgin is what gets spoken when people patch things together from different languages, so it serves well enough to communicate. But Creole is what the children speak, the children of pidgin speakers…
---
28 March 2007, 22:41


And the New York Times published an article about the exhibition just before I came home, so it followed me enough to take note although I have yet to see the show.


One of the works that has received the most attention by the press is the video by N.Y. based photographer Noah Kalina: "everyday". A somewhat boring six minute assemblage of 2,356 daily self-portraits shots.==
---
15 March 2007, 22:03
San Francisco is such a nice city to wander about in that visiting the gallery scene should be a real pleasure. Which it is of course, although I have to say – old fart me – that I would expect a lot more excitement from a city renown for it's counter-cultural history. I was told a few times that L.A. is where it is happening, almost could of seemed like sort of a local "what can we do" background color. It's all attitude down there, they say, don't give a hoot about N.Y. no reason to be like them…
---
3 March 2007, 17:03
In an attempt to avoid putting to much junk down the drain I have gotten into the habit of washing my brushes and stuff in a little water filled pail which, when it gets too disgusting, is poured into an old container or can; whatever is convenient. Depending on the season and the humidity level, either the water evaporates and I can put the residue in the trash bin, or the whole thing starts to rot and stink. Which of course raises the internal, eternal(?) debate of self comfort versus idealism…
---