23 March 2012, 14:00
Zimoun is cool! I like the ones that sound like rain the best…
---
30 August 2011, 10:01
August has passed in a flash as it will when you're having fun ;-)…
First I spent a couple of weeks helping friend Bill prepare some of his cool home made instruments for his first art show! This event will take place in Fribourg at the Atelier-Galerie J.-J. Hofstetter on September 9th at 8pm. He has programed a series of concerts with them (the instruments) and various other musicians so check out the schedule if you happen to be near by.
Bill, as it has already been mentioned here and there in this blog, also plays with the Fanfare du Loup Orchestra, a Geneva based Big Band. They where just down the mountain last Sunday at the Auvernier Jazz Festival where they played a selection of tunes from their Play it again, Bill program. The sketch is from that event…
---
8 October 2010, 16:16
This year I designed some stamps for Halloween greeting cards and party invitations, here are the two I like the best:
But I have to admit that there are
some really cool Halloween postage designed by other artists
too so the competition is chilling!
---
9 August 2010, 22:10
Annamarie Andersen has proposed to show a selection of my bronze and other objects from the past in a show with Italian artist and friend Graziano Marini.
It opens August 26th: vernissage from 17h00 to 20h00 – and runs to October 15th with the a finissage from 17h00 to 20h00.
So if you're interested in my stuff from back then, it will be a good occasion to see a few pieces!
---
30 October 2009, 09:17

Be the first on the block with a unique Rattlebrained wall calender for next Year!
Lost Souls & Stink Bugs A Yearly Calendar for 2010 contains 12 kind of weird, kind of wow! works of art, created by yours truly between the Fall of 2007 and Summer of 2008)!

…
---
30 June 2008, 12:59
So I happen to look at my YouTube statistics yesterday and was more than surprised to see that my Demonstrating Water With Stones video documentation has gone from around 350 visitors to nearly 2000 in the last few weeks. Who knows from where or why, it's weird, all the more since the few who rated, rated poorly indeed….
---
8 April 2008, 21:11
Apparently today was the opening of the Hodler exhibition at the Kunstmuseum in Bern. This made the news because among the people who lent their paintings to the museum was Switzerland's extreme right populist party mentor: Christoph Blocher. It so happens that his party, the "Swiss People's Party" is more than pissed that the afore mention (sorry, no name calling here) was pretty much kicked out of the government by the parliament last fall…
---
3 April 2008, 20:19
Painting has been declared dead many times and by many different people, but usually the story is that some "new" art movement has made painting obsolete. I don't think painting has really been threatened by other forms of art, ever, but perhaps the threat comes from elsewhere…
---
25 July 2007, 21:36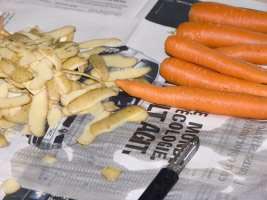 The windows in my apartment where changed today from 125 year old wooden things that we barely dare to touch anymore because they where falling apart in every way possible, to white plastic double glass panes that hopefully will do a better job at keeping out the cold. Ugly but efficient as opposed to rotten with a history I guess…
---
20 July 2007, 21:29
One of the more arresting things about being an artist is surviving the way people consider it as an activity. What other occupation gets you "and do you live from it?" as a sequel to "what do you do?". OK, sometimes you get the "what type of art" question in between but either way: say no and your inquisitor usually beams with righteous justice, say yes and visibly you've sold out.
Yes, yes, that's a bit of an stereotyped exaggeration but it was fun to write and has a ring of truth…
---